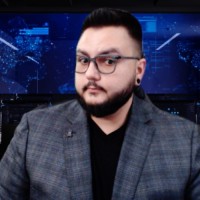 Ed Sarney
National Cloud Solutions Architect
© 2023 All rights reserved.
Ed Sarney
Infrastructure Architecture and Maturity
System Engineering and Architecture
Meet Ed Sarney, a highly experienced and accomplished IT professional with over 10 years of experience in the industry. Ed is currently a National Cloud Solutions Architect at Sentinel Technologies in Chicago, where he is responsible for ensuring the technical accuracy of proposed cloud-based solutions. Ed interfaces with other consultants and sales team members to design and implement solutions such as: Configuring Microsoft 365 Services, Cloud Migrations, Virtual Desktop Infrastructure, and much more. With his extensive experience in the field, Ed is an expert at providing expert technical support, gathering technical information on the customer's IT environment, and assisting organizations with Identity solutions including integration with cloud-based solutions, processes, and workflows as applicable. Throughout his career, Ed has built and maintained relationships with new and existing customers as a trusted advisor and is known for his ability to accurately set delivery expectations and meet those commitments.
Years of Experience

10+

Location

Chicago, IL

Residence

United States

email

ed@edsarney.com

Phone

+1 312 219 4925

I highly recommend Ed Sarney for information technology infrastructure architecture advisory services. Ed is skilled at building and maintaining technology environments from the desktop to the data center and the cloud. He is easy to work with and communicates clearly.

Ed Sarney is a consumate professional who can balance technical skills and knowledge with thoughtful collaboration and a sharp focus on customer service. I have worked with Ed since March of this year and in that time he has led and assisted with numerous initiatives that required technical skill, a wide knowledge of our organization and population, industry standards and creativity. I have absolute confidence that each task and project he is given will be completed thoughtfully, entirely and promptly. He is wonderful to work with as a colleague and I look forward to working with him more in the future.

I worked with Ed for the past year at the Joyce Foundation. Ed was our IT representative from Sentinel Technologies under our managed services contract. Ed was amazing to work with - extremely professional and very curtious. He was always responsive and went above and beyond to help solve any problems we encountered. Ed was our IT department and he took this role to heart. His knowlege was very broad and he made well thought out recommendations. I depended upon his expertise and would highly recommend him to manage your IT environment.

Ed and I have worked together for over a year. He has been a valuable consultant to our organization. Ed has excellent communication skills and is always fast to reply whenever we have questions. I do not hesitate to reach out to Ed. He is very knowledgeable in his field and is not afraid to say when he is not a subject matter expert. In the few times Ed has not known a particular subject/issue he is quick to reach out to his peers/vendors and get back to us in a timely fashion. Ed is very easy to get along with and adjusted to our team very quickly. He is well liked and respected by our team. Please feel free to IM me if there are further questions.
Resume
Experience
2022 - Current
Sentinel Technologies
National Cloud Solutions Architect
As a national cloud solutions architect, my role is to work with clients across the country to design and implement cloud-based solutions that meet their unique business needs. I collaborate closely with clients to understand their IT requirements and develop customized cloud strategies that align with their goals. I ensure that these strategies meet security, compliance, and performance requirements, and design hybrid cloud architectures that integrate on-premise and cloud-based systems seamlessly. My expertise and guidance help organizations leverage the full potential of cloud technologies to achieve their strategic objectives. Ultimately, my goal is to provide clients with innovative, effective, and scalable solutions that help them stay ahead of the curve in an increasingly competitive and dynamic business environment.
2021 - 2022
Sentinel Technologies
Senior Solutions Engineer
2020 - 2021
Sentinel Technologies
Solutions Engineer III
2019 - 2020
Sentinel Technologies
Incident Response Team Member
2018 - 2020
Sentinel Technologies
Senior Datacenter Engineer
2016 - 2018
Career Builder
Infrastructure Engineer
Server Administrator/Service Desk Manager
Information Technology Support Specialist
Microsoft Technologies
100%
Infrastructure Architecture
95%
Amazon Web Services (AWS)
75%
Knowledges
Public Cloud
System Administration
Digital Transformation
Hyperconvergence
Infrastructure Design
Solution Architecture
Problem-Solving
Social Networking
Flexibility
Contact
Chicago, Illinois
312-219-4925
ed@edsarney.com
Freelance Available